Places To Stay On Staniel Cay
Enjoy a stay at Staniel Cay Yacht Club in our beautiful bungalows.
Come stay with us and make one of our bungalows your vacation home while on Staniel Cay. Sip an island cocktail and watch the gorgeous Bahamian sunsets from the comfort of your private porch while nurse sharks and rays glide through the waters below you. You may never want to leave…
Ocean Blue Waterfront Place to Stay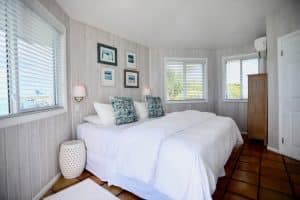 This two-story suite with 2 full baths offers spectacular western views over the bay. The master bedroom is upstairs with a queen-size bed, full bath and private balcony. The living room is downstairs with an elegant daybed and trundle along with a second full-bath and lower balcony. A spiral staircase connects the floors, offering partial privacy to each level.
Pink Waterfront Bungalow Place to Stay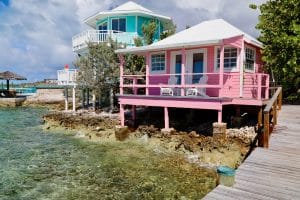 This single-story bungalow is ideal for couples, having one bedroom and a balcony overhanging crystal clear waters, facing west for beautiful sunsets.
View all our places to stay on Staniel Cay