FAQs When Visiting the Bahamas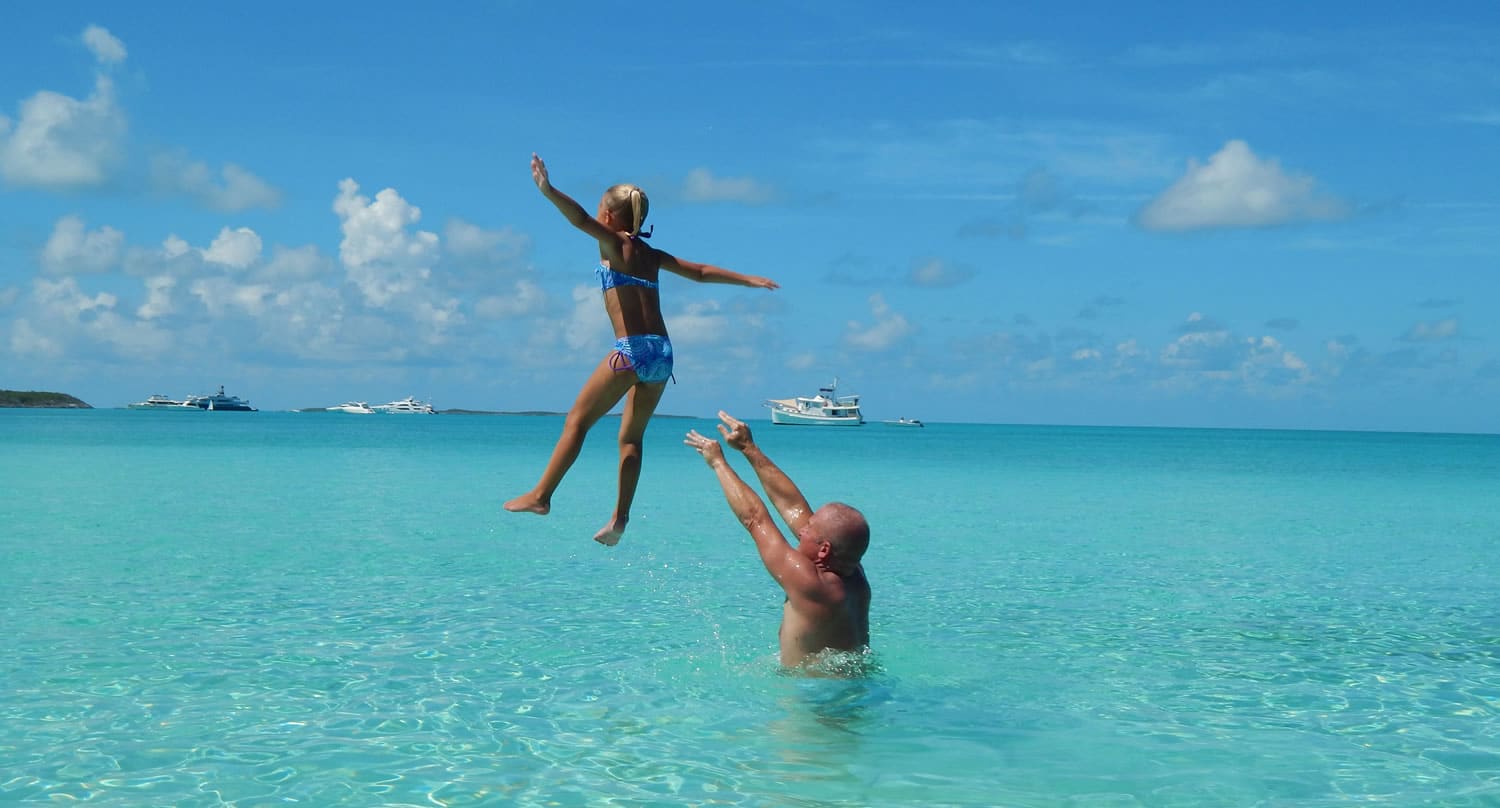 Frequently Asked Questions When Visiting the Staniel Cay Bahamas

What's the weather like in Staniel Cay, Bahamas?
No matter what time of year you choose to travel to Staniel Cay, you will experience nature at its best. In the summer months, the average air temperature is approximately 86 degrees (F). In the winter months, the average air temperature is in the mid '70s. Water temperatures are a pleasant 70 – 80 degrees all year long.
Wondering what to bring?
Pack comfortably and casually. While the Yacht Club's gift shop and the other island stores stock many of the essentials, we advise you bring the following: several bathing suits, sandals, sunglasses, suntan lotion/sunscreen, light cover-up clothing, a pair of long pants and windbreaker in the winter, camera, insect repellent, a good book or two, and maybe a portable music player.
Do I need to bring my own snorkel gear?
Snorkeling is one of the best reasons to visit the Exuma Cays. You may bring your own snorkel gear or you may choose to purchase gear in our gift shop once you arrive. We are in the process of ordering brand new snorkeling gear for zero-contact, individual purchases in our gift shop. Please bear with us as this may take some time due to current shipping delays.
How do we find local guides?
The Staniel Cay Yacht Club in the Exuma Cays can provide you with a list of independent local guides who can arrange snorkel, diving, and fishing trips as well as half-day or day-long excursions and conch expeditions. These outside vendors are not affiliated with the Staniel Cay Yacht Club in any way and the list is provided only for the convenience of guests. Please inquire with the Yacht Club.
How do I travel with a drone to the Bahamas?
Bahamas Drone Regulations. According to Bahamas's national aviation authority, the Bahamas Civil Aviation Authority (BCAA), flying a drone is legal in the Bahamas, but we recommend being aware of and compliant with the drone regulations listed below before doing so. You need to register your drone.

If you'd like to contact the BCAA directly before you travel with any questions you might have, here is their contact information: dronesupport@bcaa.gov.bs/ +1 242 397 4700
General Rules for Flying a Drone in the Bahamas
Based on our research and interpretation of the laws, here are the most important rules to know for flying a drone in the Bahamas.
A permit is required for all drone use in the Bahamas. See the section below for more information.
You must register your drone to fly in the Bahamas. The registration portal can be found here.
Do not fly within 50 ft. of any person, building, or vehicle not associated with the drone's operation
Do not fly over or within 150 meters of any congested or populated area.
Do not fly higher than 400 ft.
Do not fly within 5 nautical miles of any airport.
Do not fly over private property unless you have consent from the property owner.
Do not fly over military installations, nature reserves, or areas labeled a "no drone zone."
Do not fly at night or in bad weather conditions with low visibility.
Medical
Staniel Cay has a small clinic with a nurse in residence, but please bring any necessary prescription medications, contact lenses solution, etc. For boaters, the nurse can be reached at the "Saint Luke's Clinic" on VHF channel 16.
Communication
The Yacht Club's bungalows do not have individual televisions or telephones, but tv, phone, fax and internet are available for our guests to use. Pre-paid phone cards for use with our pay-phones are available in the clubhouse. Cell phones with pre-paid minutes can also be arranged. Complimentary wifi is provided for our registered hotel and marina guests in the Clubhouse bar and restaurant areas.
What documents do we need?
Don't forget to bring your passport! A birth certificate and photo ID are no longer acceptable to return to the United States. PLEASE NOTE: Remember to check the expiration date on your passport!
How much cash do I need on Staniel Cay?
There are no ATM's on Staniel Cay. The Yacht Club accepts wire transfers, Visa and MasterCard credit cards, as well as traveler's checks. There is no need to exchange money, as Bahamian and U.S. dollars are accepted equally by all Bahamian establishments. Most guides and local shops and other local restaurants do not take credit cards, so bring cash for these other attractions.
Can you stay on Staniel Cay?
If you're looking for an amazing place to stay while in the Exuma Cays, Bahamas, look no further than Staniel Cay Yacht Club. This resort is the number one choice for many travelers, and it's easy to see why. Not only is the scenery absolutely beautiful, but the staff is incredibly friendly and welcoming. You'll feel right at home
Best Places To Stay on Staniel Cay
There are many great places to stay on Staniel Cay, and each has its own unique charm. Whether you're looking for a cozy cottage by the water or a luxurious villa with all the amenities, you'll find the perfect accommodations for your vacation here.
The Staniel Cay Yacht Club is a popular choice for visitors. You can also charter a yacht or rent private homes.
Where do we clear U.S. Customs & Immigration?
Upon your return to the U.S., the aircraft will taxi immediately to the U.S. Customs and Border Patrol offices at 5301 East Perimeter Road, Fort Lauderdale, Florida 33309. All items must be removed from the aircraft and each passenger is responsible for his/her own bags. Please stay with your pilot during this process and do not leave the building until instructed to do so. PLEASE NOTE: No mobile phone use is allowed for phone calls or texting while you are in the Customs building.
Freight needs while boating through the Bahamas
Looking for air freight service to the Bahamas? Look no further! Our dedicated team offers convenient and reliable shipping to all our scheduled destinations in the islands. Whether you're looking for a charter freight flight or provisions, cargo, and freight service, we can accommodate your needs. With our frequent departures and experienced staff, you can rest assured that your shipment will arrive safely and on time. Contact us today to learn more about our services!
Regular cargo flights to
Can I ship freight to Staniel Cay Bahamas?
Step 1:  Create your free Freight Account with Makers Air

Click here to create your free
Freight Account
with Makers Air  This will help ensure that they have the proper information to ship your packages quickly to you.
Step 2:  Address your packages correctly
When you have your packages delivered to Makers Air, it is important they are addressed using the format below:
YOUR FULL NAME HERE 
2331 NW 55th Court
Fort Lauderdale, FL 33309
*PLEASE NOTE: Do not
put our company name on the package.
Your
name must be on the package, and this name must be the
exact
match of your name registered with 
Click2Clear
.
Step 3: Track your Packages
Please track your package deliveries to us online via the company you ordered from. Then email us at 
Freight@makersair.com
 24 hours after 
ALL
your packages show as "delivered" to let us know you are ready for your bin to be pulled. We will then prepare your packages for shipment to the Bahamas. Please note we require that you give us 24 hours after your package is delivered to allow enough time for the package to be scanned into our system and distributed to your customer bin. Due to the volume of packages received daily, we do not call customers upon receipt of packages.
Step 4:  Pay your Invoice
Once your shipment is finished being prepared, we will email you the invoice for payment. It is very important for you to review the invoice carefully and be sure that all the tracking numbers you are expecting in this shipment are there.  Once you have double-checked the tracking numbers, simply click the link to pay your invoice. Upon receipt of your payment, your shipment will go out on our next available flight for delivery to you! Please note all delivery times are calculated from the date the package(s), documentation, and full payment have been received.
Additional Special Instructions for Customers Shipping to Staniel Cay
In order for your unaccompanied parcel to be shipped to Staniel Cay, you must register with Click2Clear. We are unable to ship anything for you without this registration.   Additionally, we will need your receipt(s) for the items we are sending. This is required for customs – both U.S. Customs at departure and Bahamas Customs upon arrival. When you place an order, please ask the supplier to include an invoice/receipt and contact information for the recipient. Please note that you are responsible for payment of all duties, levies, and required broker fees. All packages shipped to Staniel Cay MUST include:
The invoice with total monetary value (item $, tax $, shipping $)
Cruising Permit (if applicable)
Recipient Contact Information (phone, email)
Am I allowed to bring liquids, fruits and/or vegetables into the Bahamas or back to the U.S.?
Bahamian Law allows Duty Free (into the Bahamas):
$100 total of duty-free items to visitors
1 qt. of liquor OR 1 qt. of wine OR 1 6-pack of beer
200 cigarettes OR 50 cigars
NO FRUITS OR VEGETABLES
U.S. Customs Allowance (into the U.S):
Conch/Fish: 10 lbs. per person
Lobster: 6 per person (MUST be more than 6 inches in length)
NO MEATS, FRUITS, OR VEGETABLES
How do you get around Staniel Cay?
There are a few ways that you can get around Staniel Cay. One is by renting a golf cart, which is the most popular way to get around.  There are also bicycles and scooters for rent. If you're looking to explore Staniel Cay know that it is a small Cay and very walkable.
Whichever way you choose to get around, make sure to enjoy the beautiful scenery!.
Does Staniel Cay have customs?
No, Staniel Cay does not have a customs or immigration office. You will need to clear customs prior to arriving.
How long is the boat ride from Nassau to Staniel Cay?
Depending on the boat and if any stops are involved the boat ride from Nassau to Staniel Cay is about 1.5 hours long. The trip is a great way to see the beautiful Bahamian coastline and enjoy the fresh ocean breeze. Make sure to bring along sunscreen,
How long is Staniel Cay runway?
Direction
Length
m
ft
17/35
924
3,031
What airport do you fly into for Staniel Cay?
You fly into the Staniel Cay Airport. You will find flights from Nassau and direct from Fort Lauderdale on Makers Air.
Where is the Thunderball Grotto?
The Thunderball Grotto is located in Staniel Cay, Bahamas.  It is a popular spot for free diving and snorkeling, and is also the site of the 1967 James Bond film "Thunderball".
The Swimming Pigs
Near the Staniel Cay Yacht Club in the Exuma Cays, you'll find a colony of swimming pigs. These animals are descendants of farm pigs on Big Major Cay. They've since learned to swim and survive in the wild, and can often be seen lounging on the beach or enjoying visitors on Pig Beach.