Yacht Charters & House Rentals
Explore the beauty of the Exuma Cays

Staniel Cay Yacht Club works with several yacht charters, a private island retreat, and several exclusive rental house properties should you wish to explore the beauty of the Exumas & their turquoise waters.
Three Waterfront Vacation Villas
These three preferred Staniel Cay Vacation Villas are charming and cozy island accommodations located on the island of Staniel Cay in the Exumas. The cottages are designed in a traditional Bahamian style, featuring brightly colored exteriors and luxurious, comfortable interiors that provide a relaxing and authentic island experience. Each cottage is equipped with modern amenities, including air conditioning, a fully equipped kitchen, and Wi-Fi. Guests can enjoy breathtaking views of the ocean from their private patios or take a short walk to the nearby Lazy Bay Beach, which is known for its tranquil waters and secluded atmosphere. The cottages' prime location also provides easy access to Staniel Cay's top attractions, including Staniel Cay Yacht Club, Thunderball Grotto, and the swimming pigs at Pig Beach.
Relaxing Waterfront Getaways
Experience the perfect combination of luxury and relaxation in our waterfront villas. With a spacious 1,400 SF layout, each villa can comfortably sleep up to six people. Our modern design and tasteful decor provide the ideal setting for couples or families looking for a secluded escape.
Take advantage of the large lounge areas and outdoor patios, perfect for gathering with friends or simply lounging in the sun. Spend quality time together while admiring the stunning waterfront views from your private balcony.
For those looking to keep busy, take advantage of our numerous onsite amenities, such as yoga classes, a fully-equipped fitness center, and a selection of water sports. From kayaking and sailing to snorkeling and swimming, there's something for everyone to enjoy.
Make lasting memories and create the perfect getaway in our luxury villas. With convenient access to waterfront amenities and superior service, you can be sure to have a restful retreat that you'll never forget. So why wait? Come experience the ultimate in relaxation.
Chardonnay
Cabernet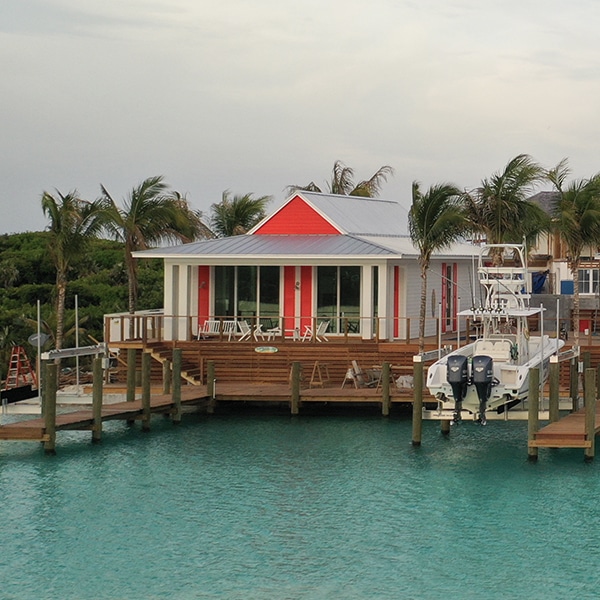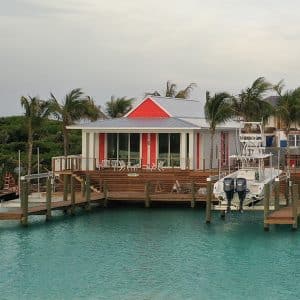 Bombay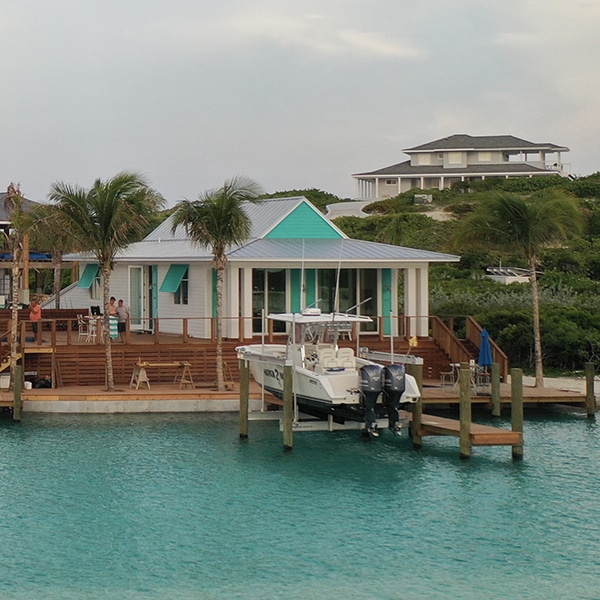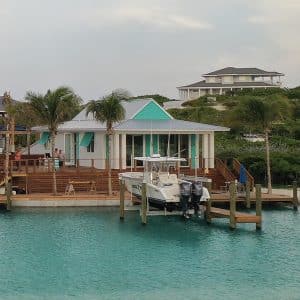 51′ Lagoon 500 Catamaran Cruiser Yacht
Sail crystal clear waters, snorkel coral reefs teeming with fish, kayak, or just relax at the end of the day in the Bahamas. Sit down to dinner together and share the fresh catch of the day on your own private catamaran.

Catamarans offer stable, comfortable sailing with spacious, well lit interiors. This 51ft catamaran is able to navigate the shallow and exceptionally clear waters of the Bahamas because of its small draft. With 21 years of sailing experience in the Exumas, the captain can safely show you the best they have to offer. Maneuverability and speed along with comfort for up to 8 guests and luxury for long cruises are this yacht's speciality.  Join us for a fully crewed luxury vacation and make memories that will last a lifetime!
Luxurious Oceanfront Beach House Rental

This 5 bedroom, 5 bath oceanfront home on Staniel Cay features two beautifully furnished levels that can be rented together or separately. The upper level has three bedrooms and three baths, including a spacious master suite, high-end kitchen/dining area, and living room with deck overlooking the water. The lower level has two bedrooms, two baths, full kitchen, and living room with deck overlooking the water. Both levels are appointed with all modern amenities.
Each level includes AC, Wi-Fi, a fully-equipped kitchen, outdoor grill, deck/patio, washer/dryer, a TV and DVD player, satellite/cable, a stereo system and parking along with items such as a hair dryer, iron and ironing board and linens.  The upper level sleeps 6 and offers 1 king bedroom, 2 queen bedrooms, 3 full baths, a full kitchen, living room and 4 decks.  The lower level sleeps 4 and offers 2 queen bedrooms, 2 full baths, a full kitchen, living room and 2 decks.
Luxurious 4-Bedroom Villa with Infinity Pool and Yacht Dockage
This luxurious 4-bedroom villa on Staniel Cay offers the perfect way to experience the Bahamas and all of the luxury and beauty it has to offer. The elegantly furnished villa provides phenomenal views of Thunderball Grotto, famous for James Bond movies and Big Majors, the home of the world-famous swimming pigs. Guests experience these incredible views while relaxing in the infinity edge swim up pool and bar. Enjoy the sunset views from the large wrap-around balcony while listening to your favorite tunes on the player piano before dining alfresco on by the pool.  For yachtsmen seeking private dockage, this villa offers a 12′ controlling depth and is capable of handling up to 180′ yacht with ample power and tie off dolphins.
Guests are provided with transportation to & from Staniel Cay airport, linens, towels & bathing amenities, wifi & satellite TV, along with daily housekeeping. Additional services available include golf cart rentals, boat tours, rentals & charters, and private chef & food provisioning.
Luxurious Private Beachfront Getaway
Acontemporary tropical home providing large open spaces and upscale furnishings. Set in a sheltered cove,  guests find themselves surrounded by the most pristine white sandy beaches and crystal clear waters. Spoil yourself in unhindered views of the calm azure water from this elevated villa's numerous points of view. You will fall in love immediately with this home after your first day because of all of the amenities and beautiful views it provides.  We offer a very large pool with a swim-up bar and hot tub and a large travertine pool deck for sunbathing that features both lounge and table seating. The custom-built pergola is perfect for alfresco dining or getting out of the sun poolside.
Brand new : we've added a oceanview pickleball court. Come and play in paradise!
Newly Remodeled Private Beachfront Home

This 4-bedroom beachfront home on Staniel Cay is ALL NEW after a total renovation! Sweeping views of the turquoise sea and glorious sunsets greet you from every room on the main level and lengthy deck. With an open plan and vaulted ceilings, relax in the spacious living area, dining room, and full kitchen with breakfast bar.  The primary bedroom is adjacent to an ensuite bathroom and walkout to the beachfront deck.  Three additional bedrooms and a second bathroom are located downstairs.  Two of the downstairs bedrooms boast sliding glass doors to an outdoor shower, hammock patio, and backyard beach.
This private home can accommodate up to a maximum of 8 people, including children. Amenities include high-speed wireless internet, flatscreen smart tv, A/C throughout, games & books, linens, towels, iron/board, hairdryers, outdoor dining, and all new appliances, including washer/dryer.  Enjoy multiple outdoor lounge areas with a grill, tables, chairs, kayaks, beach toys, and a mooring ball for convenient daytime access.  Guests rave about the home's stunning views, impeccable owner hospitality, and pristine cleanliness.  Airport/dock transfers included, and assistance is provided with arrangements for boat/golf cart rentals, tours, and provisioning.
This stunning house is located on a private peninsula of 6+ acres with 1/4 mile of waterfront, 2 beaches, and a private dock on Big Farmer's Cay, in the central Exuma Cays, about 15 minutes by boat from Staniel Cay. Designed with an open floor plan of kitchen, living and dining areas on the upper level, this 3-bedroom, 2.5-bath home features unsurpassed, 360-degree water views. The vacation rental sleeps up to 8 (with air mattresses).
Amenities include a fully-equipped kitchen with dishwasher, 4 flatscreen TV's, high-speed internet, cell phone (for local calls), washer/dryer and home essentials such as a hair dryer, iron, linens and toiletries. You will also have a dedicated house manager to assist you as needed while enjoying your stay.  Explore the surrounding water and islands in a 17′ Boston Whaler, available for rent. See pirate caves, iguanas, swimming pigs and blue holes or visit the nearby communities of Little Farmer's Cay, Black Point and Staniel Cay.
Complimentary transportation provided to/from Little Farmers Cay airport. Transportation from other locations will incur a separate charge. If you are a private pilot, Little Farmer's Cay features a 2,500 ft. airstrip.