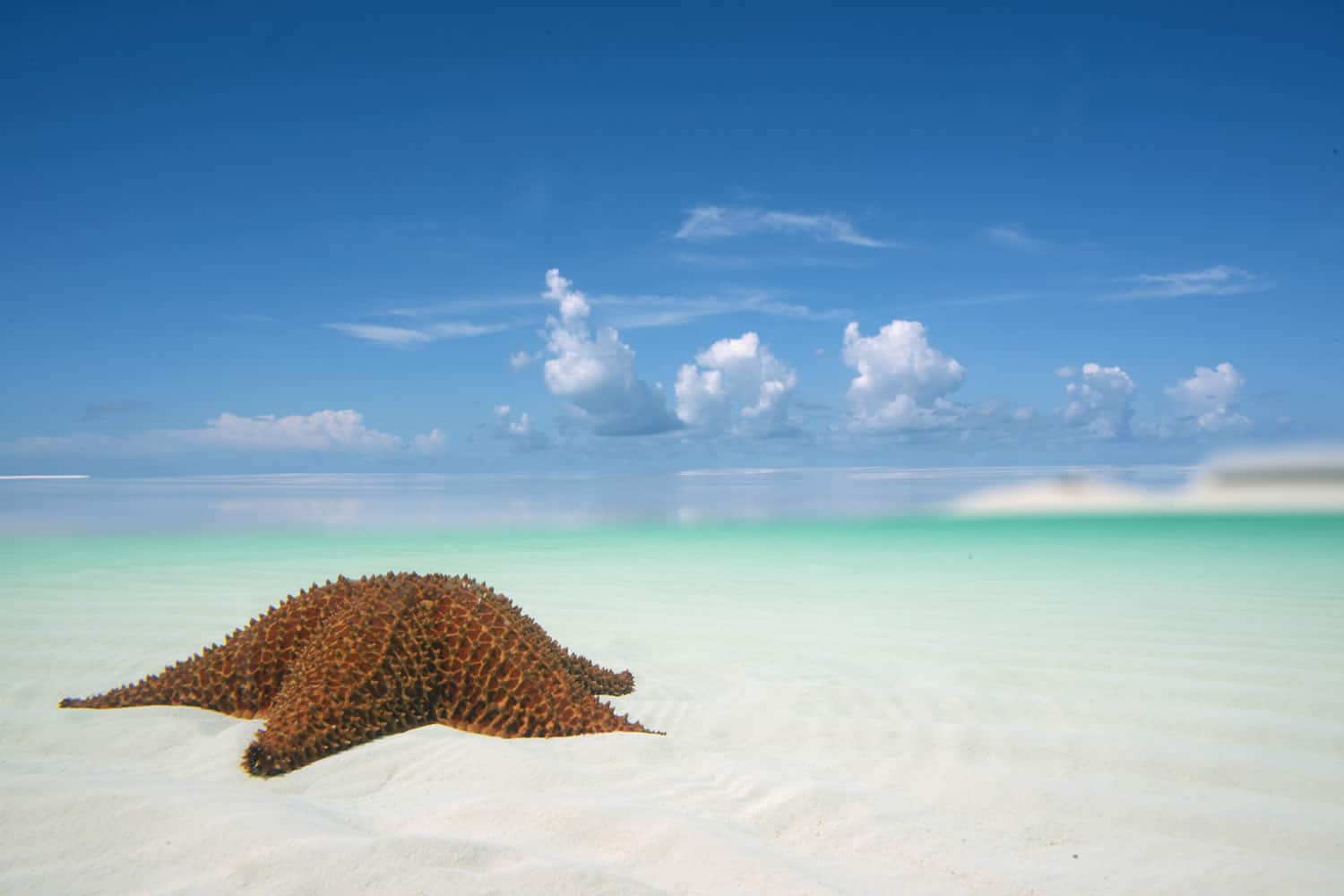 Explore crystal-clear waters, pristine reefs, deserted islands and white-sand beaches with your own skiff. The many secluded beaches, coves and isles surrounding Staniel Cay are a perfect setting for numerous activities. At the Staniel Cay Yacht Club, we can provide you with everything you'll need (including a picnic lunch) to enjoy a day filled with relaxation or excitement – or maybe a little of both!
Pristine Sand, All Your Own.
Enjoy the white sand beaches of Staniel Cay and the surrounding islands. The Yacht Club can even pack you a picnic lunch. Spend your afternoon lounging on a sandbar, just be sure to pack up before high tide!
Exuma Cays Land and Sea Park
Visit the world's first land and sea park and explore the pristine beauty of this national park. A renound spot for snorkelers and divers, marine wildlife flourishes in this reserve. Established as a refuge for marine life in 1958, this area teems with a healthy, breeding population of fish and lobster. Click here for official park boundaries.
Thunderball Grotto
Site for filming the 1965 James Bond film, Thunderball, swim through an underwater opening, through schools of fish, into this uniquely beautiful world.
Big Major's Spot (Pig Beach)
Placed by locals many years ago on Big Major's Spot, these porcine swimmers inhabit this small scrubby island with white-sand beaches. Bring a treat for the swimming pigs (they love the Yacht Club's kitchen scraps) who will come to your boat to greet you.
Compass Cay
One of the hundreds of islands in the Exumas Island Chain, Compass Cay offers visitors the chance to swim with and even pet their resident nurse sharks.
Allan's Cay
See the critically endangered Northern Bahamian Rock Iguanas as they patrol the sands of their island home.
Explore This Pristine Undersea World
Few places on earth compare to the shallow, clear waters of the Exumas. Explore this pristine undersea world and you'll never forget its unmatched beauty. Discover the breathtaking Thunderball Grotto, a hollowed-out island where thousands of colorful fish will eat from your hand.
The Staniel Cay Yacht Club can provide you with a list of independent local guides who can arrange snorkel, diving, and fishing trips as well as half-day or day-long excursions and conch expeditions. These outside vendors are not affiliated with the Staniel Cay Yacht Club in any way and the list is provided only for the convenience of guests. Please inquire with the Yacht Club.
The Mermaid Melody group tour is available on Wednesday only. Open to guests of the Staniel Cay Yacht Club. The areas of this tour are not accessible with SCYC cottage boats.
If you're looking for a truly enchanting experience, come explore the Bahamian waters with Mermaid Melody. The beautiful boat ride will take you to some of the most secret and exciting attractions in the Exuma Cays. You'll have a chance to snorkel alongside a sunken mermaid and piano, visit a turtle sanctuary, snorkel a sunken plane, walk inside an open cave near the "Fountain of Youth", frolic on White Bay Beach, and enjoy a delicious local lunch in Black Point.
The Pablo Escobar's Adventure group tour is available on  Saturday only. Open to guests of the Staniel Cay Yacht Club. The areas of this tour are not accessible with SCYC cottage boats.
Pablo Escobar's Adventure.  Normans Cay and the Land and Sea Park offer plenty of opportunities for exploration and relaxation. Swimming in Rachel's bubble bath, snorkeling and exploring Rocky Dundas, frolicking on Shroud cay sand bar, and snorkeling Pablo Escobars drug plane are just some of the activities you can enjoy. And we'll enjoy lunch on Norman's Cay at the Famous Mc Duffs!

Scuba Diving & Discover Scuba
Located near the Exumas Land and Sea Park, Staniel Cay is an ideal base from which to explore the pristine waters of this legendary marine reserve, in addition to many other area dive sites.
Staniel Cay Adventures, a local, independent dive shop, can provide a PADI Dive Instructor for a dive or two in crystal clear water. Not certified? No problem! Take their Discover Scuba Class for ages 10 years and up!
Independent, local guides are available for deep-sea fishing, spear fishing, bone fishing, and sightseeing.  Contact us for more details!
If you enjoy fishing, this is the place to be. Bonefish out at Harvey Cay or in Pipe Creek, both just a few minutes away. For deep-sea fishing, the expansive water of the Exuma Sound is full of grouper, snapper, dolphin, tuna and more. For the fit and adventurous, try free-diving and spear-fishing for lobster and grouper. Please note: by Bahamian law, nothing may be taken from the Exuma Cays Land and Sea Park waters and this includes fishing of any kind. All guests are responsible for knowing Bahamian fishing regulations (listed below).
For kids, try bottom fishing for snappers and other smaller fish. They will enjoy non-stop action during this unforgettable experience.
INFORMATION ON BAHAMIAN FISHING REGULATIONS
Guide to Bahamian Fisheries Regulations (Booklet)
Bahamian Department of Marine Resources Forms
All guests with a lodging package receive complimentary access to a Stand-Up Paddle Board!  Paddle the warm, crystal clear waters in your own ocean kayak. Both single and double kayaks make the journey to your own secluded beach as much fun as being there.
Visit the Bahamian village and chat with any of the friendly locals. Check out the island's boat builders at work designing their racing sloops. Head to the island's north side to swim and sunbathe on the island's beautiful and secluded beaches or hike the rugged and beautiful north ridge.
If the bikes that are included in your SCYC cottage package plan are not your speed, try a golf cart.  We can refer you to local golf cart rental agencies.